Here's when Elden Ring unlocks in your Time Zone, preload also live.
Elden Ring officially launches on February 25th and publisher Bandai Namco has released the full release schedule for each time zone so you can be ready the moment it goes live.
Preload is also live for all platforms!
Elden Ring preload requires 49GB of storage space.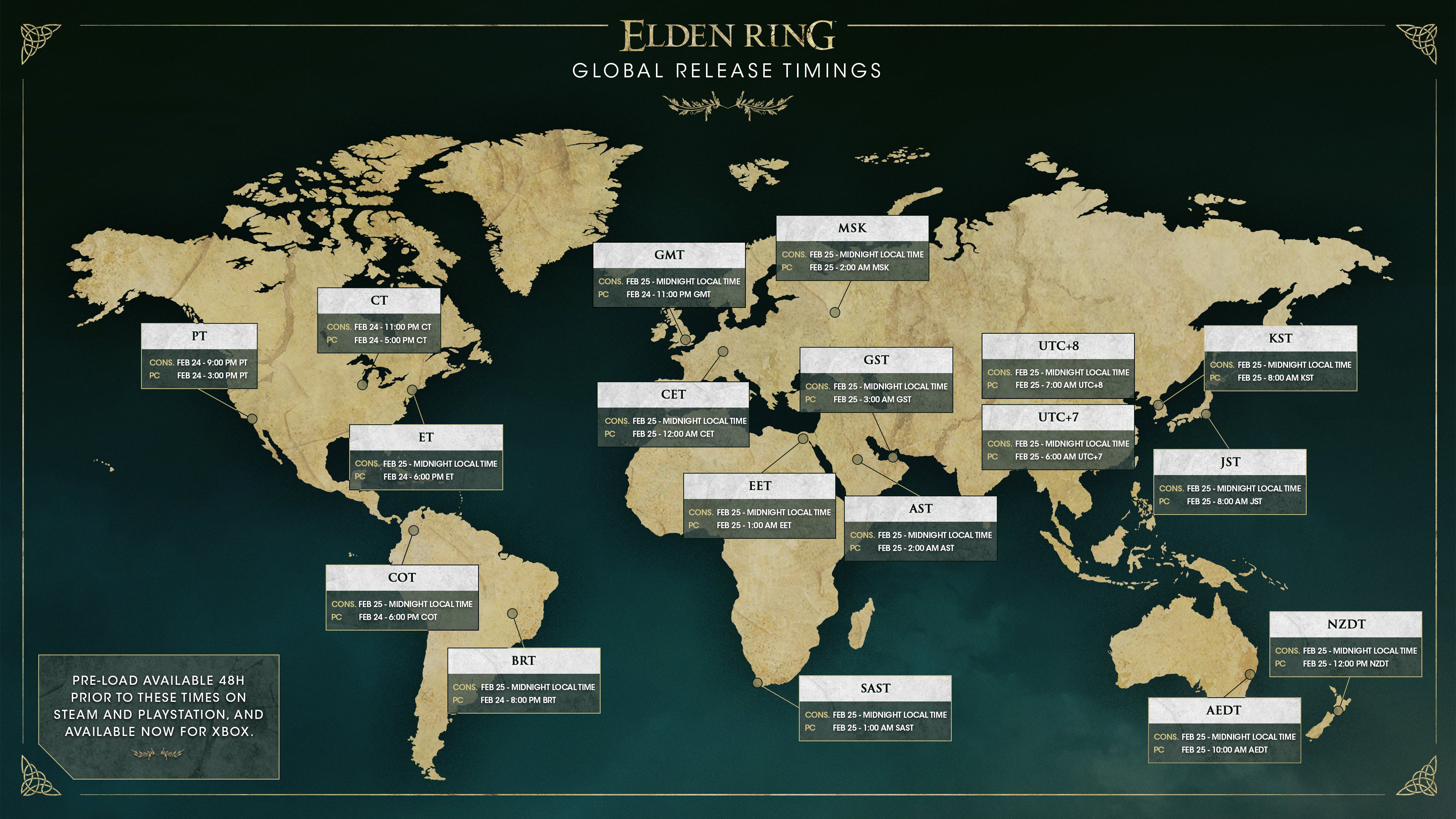 Unlock times are for both PC and Console
Pacific Time:
PC: Feb 24 – 3:00 PM PT
Consoles: Feb 24 – 9:00 PM PT
Central Time:
PC: Feb 24 – 5:00 PM CT
Consoles: Feb 24 – 11:00 PM CT
Eastern Time:
PC: Feb 24 – 6:00 PM ET
Consoles: Feb 25 – Midnight Local Time
Colombia Time:
PC: Feb 24 – 6:00 PM COT
Consoles: Feb 25 – Midnight Local Time
Brasilia Time:
PC: Feb 24 – 8:00 PM BRT
Consoles: Feb 25 – Midnight Local Time
Greenwich Mean Time:
PC: Feb 24 – 11:00 PM GMT
Consoles: Feb 25 – Midnight Local Time
Central European Time:
PC: Feb 25 – 12:00 AM CET
Consoles: Feb 25 – Midnight Local Time
Eastern European Time:
PC: Feb 25 – 01:00 AM EET
Consoles: Feb 25 – Midnight Local Time
South Africa Standard Time:
PC: Feb 25 – 01:00 AM SAST
Consoles: Feb 25 – Midnight Local Time
Moscow Standard Time:
PC: Feb 25 – 02:00 AM MSK
Consoles: Feb 25 – Midnight Local Time
Arabia Standard Time:
PC: Feb 25 – 02:00 AM AST
Consoles: Feb 25 – 02:00 AM AST
Gulf Standard Time:
PC: Feb 25 – 03:00 AM GST
Consoles: Feb 25 – Midnight Local Time
UTC+7:
PC: Feb 25 – 06:00 AM UTC+7
Consoles: Feb 25 – Midnight Local Time
UTC+8:
PC: Feb 25 – 07:00 AM UTC+8
Consoles: Feb 25 – Midnight Local Time
Korea Standard Time:
PC: Feb 25 – 08:00 AM KST
Consoles: Feb 25 – Midnight Local Time
Japan Standard Time:
PC: Feb 25 – 08:00 AM JST
Consoles: Feb 25 – Midnight Local Time
Australian Eastern Daylight Time:
PC: Feb 25 – 10:00 AM AEDT
Consoles: Feb 25 – Midnight Local Time
New Zealand Daylight Time:
PC: Feb 25 – 12:00 PM NZDT
Consoles: Feb 25 – Midnight Local Time