Twitch Leak Leaves Many in Worries About The Security of Their Login Data
On October 5th, 2021, a 4chan user announced that they had acquired the source code and other data for the gaming-centered live streaming platform Twitch.tv.
The user claimed their reasoning for acquiring this data was to "foster more disruption and competition in the online video space". They called the platform a "disgusting toxic cesspool" and overall seemed very disgruntled at the state of the website.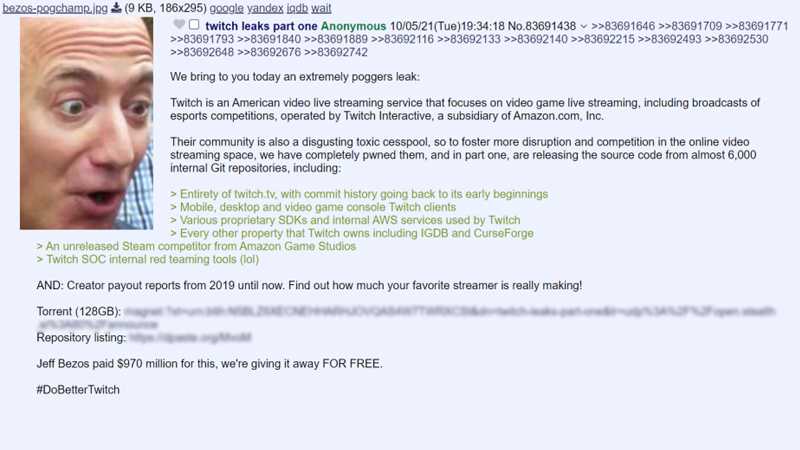 Over here at Gamer's Gospel, we believe in diving head-first into any news story we come across. So we decided to download the leak and investigate for ourselves. For legal reasons, we cannot provide the link here but we will detail our findings.
The vast majority of the leak is composed of the foundation source code of Twitch's website and back end. Perhaps the most interesting find out of these source code files, are files pertaining to a project called Vapour.
Grabbed Vapor, the codename for Amazon's Steam competitor. Seems to intigrate most of Twitch's features as well as a bunch of game specific support like fortnite and pubg.
Also includes some Unity code for a game called Vapeworld, which I assume is some sort of VR chat thing. pic.twitter.com/4KeeEOspyQ

— Sinoc (@Sinoc229) October 6, 2021
Vapour appears to be an internal Amazon project meant to serve as a competitor to PC gaming store platforms like Steam and Epic Games. This isn't Amazon's first attempt at getting into the PC gaming shop market, the twitch desktop app used to serve a similar purpose, until it was shut down. We can't say whether or not this project will be successful or not, many have tried to get into the PC gaming space trying to overtake the throne of Steam, but no one has been able to match the sheer prevalence of Valve's Steam platform.
Another finding in the leak relates to something that may affect Twitch's creators severely. Inside the leak, a folder called "twitch-payouts" can be found, where as it sounds, all payment data to ALL Twitch creators since 2019 can be found. This information being public may hurt the earnings of some of the largest creators on the platform. Some users have already begun to compile lists tracking the total earnings of these e-celebrities.
All in all, it's unknown how these leaks will affect Twitch and it's creators in the long run, but one thing that's causing a lot of concern is coming from an unexpected place. The name of the leaked file is "twitch-leaks-part-one". This name implies there may be a second part coming to this data, leaving many to speculate that it could be information as damaging as Twitch's user database. If this information does go public, people's accounts, names, account details, passwords, all may be compromised. We urge and reader of The Gamer's Gospel to change their Twitch password immediately.
Twitch has announced that they have reset every user's stream key as a security measure. If you're unaware, your stream key is your security token for streaming onto Twitch.
We've reached out to Twitch for comment regarding usernames and passwords being in the breach, we have not yet received a reply.
UPDATE 2021-10-08
It seems Twitch isn't quite safe from cyberattacks yet, as of a couple hours ago, every header image for game categories has become a zoomed in photo of Amazon CEO, Jeff Bezos.